Banda's Grove
Update 01: First Goal Unlocked, Quality of Life Updates, & Map Improvements!
---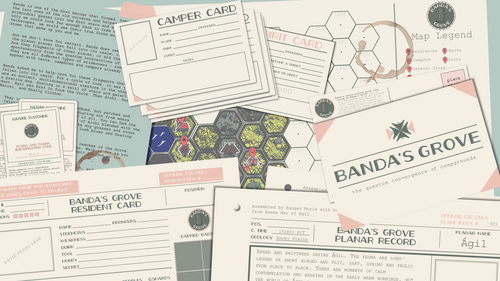 First Funding Goal Reached We have unlocked 100 creatures for you to discover in Banda's Grove and all the badges artwork by our artist, Tony Tran! We are hard at work getting those written and illustrated and will announce when those have been added!
With the illustration of all the badges, the Grove Rangers Welcome Packet tier will get a new piece of digital print and play content: A Badge Pack for players to cut and paste badges onto their character sheet. (Will also include digital tokens)
Feedback & Updates
We are already receiving great feedback from those reading and playing Banda's Grove! Thank you so much!
This update simplifies some terms, provides rules clarity, corrects some typos, and also adds several map changes. All versions, including the Ashcan edition, received these quality-of-life updates to their text, so make sure to re-download your files!
Quality of Life Updates
Change: Planar Fragments and Fragments are now just "Fragments".
Added: Groups of Fragments are called "Chunks".
Change: Rewrote map creation sections in New Resident Orientation and Creating Banda's Grove to reduce confusion with the updated terms.
Change: Corrected several Read Aloud sections in the New Resident Orientation that presented incorrect or confusing information regarding Playbooks and Blips.
Change: Updated rules to reflect that when adding a new Fragment you can choose to assign a Plane and optionally a Biome and Feature depending on how much map complexity you'd like in your game.
Change: We've changed how we generate the Print Friendly version so it is much easier for us to keep it updated.
Added: Additional file formats for the Ashcan Edition: Now includes pdf, txt, epub, and HTML.
Map Improvements
Removed: Our starter maps still had an old reference to separate "Residences" on the map, which was from an early concept of gameplay. These have been removed.
Added: Tile colors of the illustrated map tiles do not differentiate well between the different Planes. We've added some basic hex tiles using Banda's Grove color schemes! These are not part of the "Custom Hex Map Tiles" Funding goal but a temporary measure that should help players see the wonderful patchwork of different Planes. These new tiles are labeled as "Colors_*" in the file names.
Added: The new hex tiles also have high-resolution token files! Find them in the Maps/Tileset folder!
Files
Bandas Grove - Ashcan Edition.zip
440 kB
Feb 11, 2022
Bandas Grove - Early Days Edition - Full Game.zip
67 MB
Feb 11, 2022
Grove Rangers Welcome Packet (includes Core game).zip
75 MB
Feb 11, 2022